AT FIRST GLANCE

Aiming to conquer the top of the super ribs, COSMIC 39 retains all the properties of offshore high-performance ribs, combining them with exceptional comfort and luxury.
GALLERY

SPECIFICATIONS

| | |
| --- | --- |
| OVERALL LENGTH | 11.75m |
| OVERALL WIDTH | 3.36m |
| IN WIDTH | 2.06m |
| HULL LENGHT | 11.25m |
| HULL WIDTH | 2.66m |
| HULL TYPE | Deep V, Convex type, 3 ventilated steps ,Double Chines, ,double bow steps, Antidive system |
| TUBES MATERIAL | HYPALON NEOPRENE PENNEL FLIPO ORCA 1670 dtex |
| FUEL TANK | 2 X 350 lt. |
| WATER TANK | 150 lt |
| PASSENGERS | 12 |
| PERFORMANCES | max 80 knots |
| ENGINES | Outboard engines from 2Χ250 ΗΡ to 3Χ 400 ΗΡ . Inboard engines from 2Χ 300 ΗΡ to 2Χ600 ΗΡ |
DISCOVER MORE

HULL DESIGN
The need to maintain uncompromising performance in smooth comfortable cruising, required the use of the thtee vented steps, so that the vessel floats on a layer of water and air, and it took a lot of study to determine the amount of air passing under the hull through the ventilation channels.Great inportance was given to the shape and size of the chines to drive away the spray under every rough weather condition.
With a polyester bow section, and closed back of the tubes , reliability and airworthiness are achieved, since always in hi performance ribs the ends of the tubes at the stern are a sensitive point. The hard bow section, improves usability and of course protects the tubes.

DECK DESIGN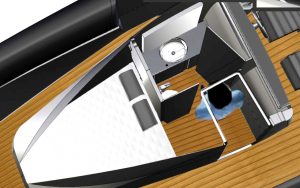 The impressive and special design of the deck harmoniously ties the aerodynamics and the usability of the interiors. The arched profile of the boat acts as an airplane wing, improving stability at high speeds, and the shape of the console achieves the best possible aerodynamics while allowing the creation of a fairly tall and spacious cabin.
With an interior height of 1.85 m, toilet, sink, shower and closet, and a double bed measuring 1.50×1.95 m, large storage spaces, allows comfortable living for at least two people.
The seats, made entirely of anodized marine aluminum, allow for either a seated driving position or an upright position. The increased lateral support keeps the body stable in all conditions, both sitting and standing, while the suspension maintains comfort at high levels when the sitting driving position is selected.                           
The boat has a wet bar with sink and hob, electric refrigerator, folding table,  sundeck on the bow, hidden windlass on both the bow and the stern, and the innovative electric bow catwalk that makes it easy to get in and out of the boat.
GALLERY